EP RAINE IS NOW AVAILABLE!
Listen to Lorraine Hogan's album on digital platforms
"RAINE" is the latest creative project from Cork artist and songwriter Lorraine Hogan, who premiered her 4 track EP at the exclusive listening event including an exclusive first look at the accompanying film project in the stunning surrounds of the Aula Maxima at University College Cork on Wednesday October 11.
The four tracks from the self-titled debut EP Raine journey through the songwriter's life as an artist, as well as exploring themes of sensuality, tragedy and loss. "Wake Up" follows the aftermath after a personal friend fell into a coma and Raine's attempt to process this. The ethereal "Breathe Me In" is a tale of falling in lust while "Honey Babe" breaks free from a toxic relationship while rediscovering her inner strength. Closing out The xx and London Grammar inspired Extended Play is "Burnt", a track that is unapologetically gritty and sexual. This debut EP was recorded, produced and mixed at Monique studio with Christian Best and mastered by Ruairi O'Flaherty.
The special show launching Raine also premiered a first look at a video project to accompany the single "Breathe Me In". The video is a collaboration between Raine's vision of the single and the cinematic eye of the Cork Film Centre. The video was projected in the grand hall of the Aula Maxima on the evening of the EP Launch.
RAINE ON THE MEDIA
"Self titled debut EP, truly a thing of beauty. Jam packed with atmosphere, imagery, a real soundtrack vibe. All backed up her haunting vocals and strong songwriting…..a real lasting impression..a far cry from your typical understanding of a singer songwriter…on another level…" 

Gillian McGee, Musician.ie
"Standout track 'Breathe Me' .. both subtle and larger-than-life, pulsating with a London Grammar-esque beauty…… Confident, accomplished clearly not afraid to bare her soul." Ryan O'Neill, Unity Media Network.
"The special show sees Lorraine (RAINE) explore the songwriters life as an artist." Hotpress.
"The music is fully formed with a sure idea to what it's about…Remarkable…" Don O'Mahony, Evening Echo.
"A unique voice with a great story to tell, Raine is an artist I'll be keeping a close eye on in 2018."  Stevie G, Red FM
"Amazing voice, top class song writing. Very talented." John Holmes, Near FM.
"JOE's Song Of The Day: Raine – 'Honey Babe'. Eric Lalor, Joe.ie.
RADIO & PRESS
Live session with Michael Carr on "The Green Room" on Corks96FM
https://soundcloud.com/96fms-the-green-room/the-green-room-october-7th-2017
Interview with Alan Donovan on "Green on Red" on Red FM
http://www.redfm.ie/on-air/played/?date=2017-10-08&time=20
EP REVIEW by Gill McGee on Musician.ie
http://musician.ie/gillian-mcgee-reviews-debut-ep-raine/
"Honey Babe" is Joe.ie's "Song of the Day"
https://www.joe.ie/music/joes-song-day-502-raine-honey-babe-604126eatured on
Musician.ie
http://musician.ie/raine-launch-debut-ep-ucc/
Featured on Nialler9
http://nialler9.com/54658-2/
Featured in The West Cork Times
http://westcorktimes.com/lorraine-hogan-raine-premieres-new-work-at-aula-maxima-ucc/
Opening for Mick Flannery at Jazz Weekend at the Inkwell Theatre (Cork)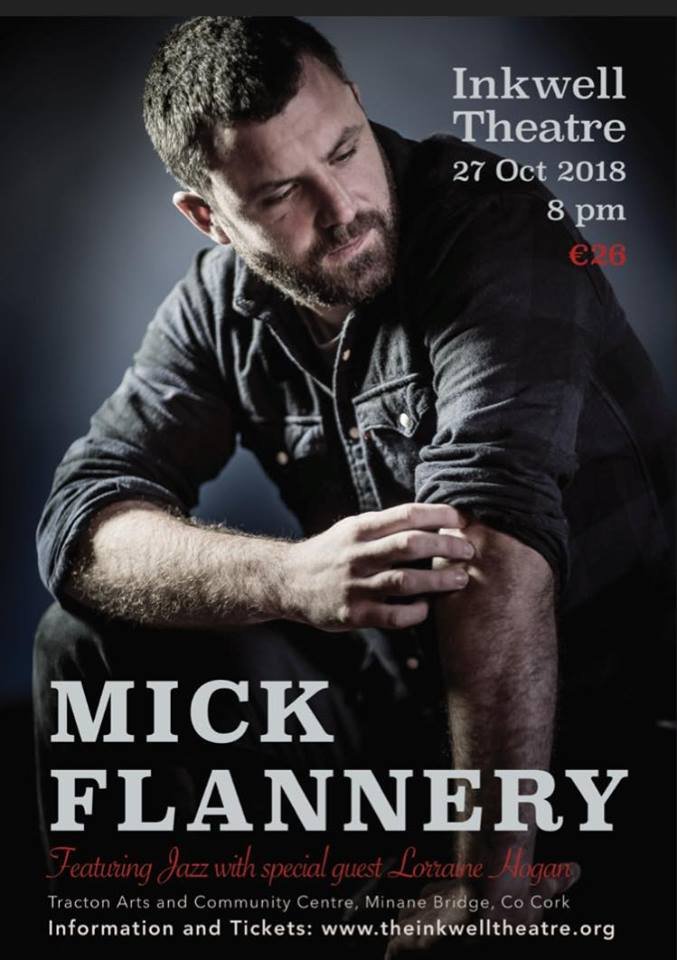 INDIE 2018
The Aula Maxima, EP launch
---
JAZZ AND BLUES
Lorraine Hogan also performs Jazz and Blues shows accompanied by the talented guitarist Sam Barker. Covering songs from artists such as Peggy Lee, Billie Holiday and Ella Fitzgerald. Lorraine has performed in some of the finest venues in the UK, Ireland and Europe most notably Ronnie Scotts in London and The Firkin Crane Theatre in Cork, Ireland.